posted on 1/17/23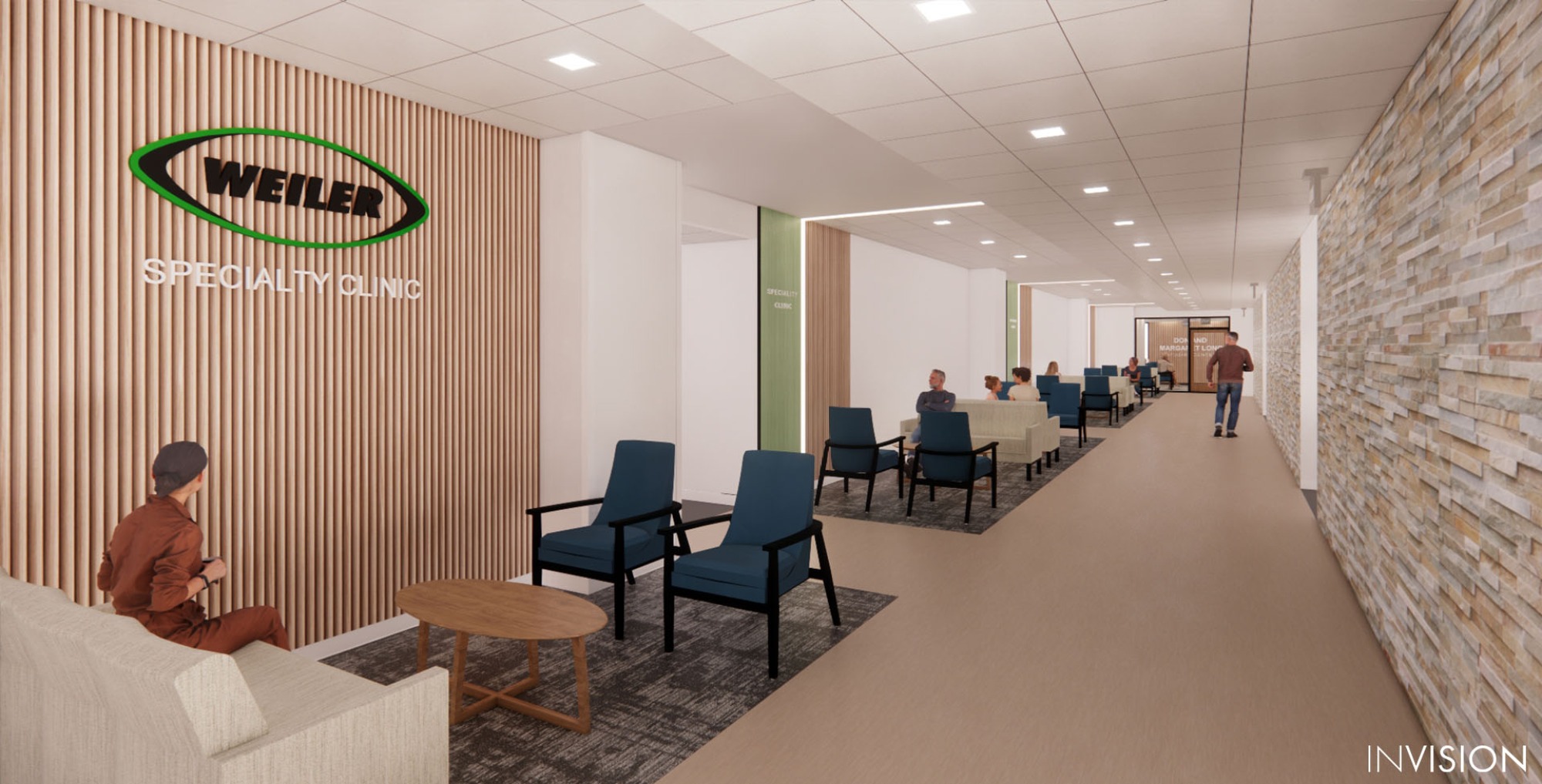 The Weiler Foundation has committed $5 million to the Knoxville Hospital & Clinics (KHC) Foundation to support the hospital's expansion project, including the construction of a new specialty clinic.
The Weiler Specialty Clinic is part of a $21 million project that will also add a new surgical suite, renovate the Emergency Department, and construct the new Don & Margaret Long Infusion Center.
The expanded clinic space, which will be home to 24 visiting specialists, will be located on the south side of the hospital and share a waiting room with the Dr. Earl J. McKeever Clinic for family medicine. The location of the two clinics side-by-side will improve patient convenience; care experience; and flow for patients, guests, and staff.
"A gift of this magnitude is unprecedented, not only for our hospital but for the Knoxville community," said Kevin Kincaid, KHC CEO. "Weiler has quickly and consistently become an integral part of Knoxville and an invaluable community partner."
The Weiler family was motivated to make the gift to Knoxville Hospital & Clinics to enhance the local community in which Weiler employees live, work, and prosper.
Founded in Knoxville in 2000, Weiler manufactures equipment for the paving market, including pavers, remixing transfer vehicles, road wideners, windrow elevators, static split-drum compactors, and front-mount screeds.
The company boasts more than 500 employees in the Knoxville area. Weiler recently completed its own expansion that is projected to add another 100 jobs as the new facility becomes fully operational.
"Knoxville has been good to us and enabled our business to grow," said Megan (Weiler) Green, President of the Weiler Foundation. "We want to give back to the community and provide cutting edge health care for our employees and their families. As Knoxville continues to grow, Knoxville Hospital & Clinics is leading the way to provide services and amenities that are convenient for our employees to access close to home."
Kincaid is beyond grateful for Weiler's support of the hospital's mission.
"The Weiler family is the epitome of what servant-hearted leadership is all about," said Kincaid. "Their generosity is a cornerstone of their company culture, and frankly, it's one of the many reasons I am honored that they have embraced our vision for health care and for our growing community."
Renovations at the hospital are expected to begin later this year, with construction on the Weiler Specialty Clinic and Don & Margaret Long Infusion Center planned in the spring.
To date, the KHC Foundation has raised nearly $7 million towards the expansion project. To learn more about the expansion or to donate to the project, visit https://knoxvillehospital.org/donate/ or contact Kevin Stittsworth, Director of Foundation and Public Relations, at 641-842-1485 or kstittsworth@knoxvillehospital.org.
Knoxville Hospital & Clinics is a non-profit community hospital serving Marion County and the surrounding area. Named a "Top 100 Critical Access Hospital" and voted as Best of Red Rock Area's "Best Place to Work" and "Best Hospitality", KHC's highly skilled medical staff and specialists provide personal, compassionate and innovative quality health care to patients. For more information regarding this release and other happenings at Knoxville Hospital & Clinics, call Public Relations at (641) 842-1485.